Price:
$9.95
This game is also available in the Bapsoft Games Pack, a collection of 5 great puzzle games at a 50% savings!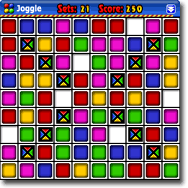 Excellent game!
"This is a fine puzzle game that will keep you entertained until the wee hours of the morning. Makes you think and keep coming back again and again. Keep putting out great games like this one Bapsoft!!!!!"



Mind Boggling!
"This is the most mind boggling game. Just love the graphics. Every level keeps you on your toes. Simple the Best!!"



Awesome Game!!!!!
"Joggle is challenging enough that I have to think while I am playing but not so difficult that I can't ever complete it. I highly recomend Joggle to the person who occasionally needs a break from the rat race. Way to go Bapsoft!!!"